SHRUNGHAR DARSHAN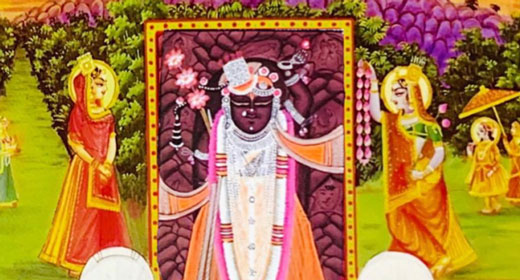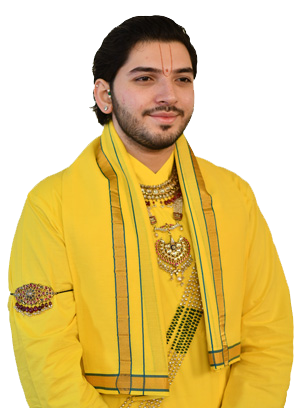 Pujya Shri Aashraykumarji Mahodayshri
The first darshan of Mangala Aarti takes place in the sewa of Shri Thakorji,the information of which we saw in the last issue. After the darshan of Mangala Aarti, the darshan of Prabhu's Shringar takes place. Now the question arises in the mind that after darshan of Prabhu's Mangala Aarti, why darshan should be done in Rajbhog or Shayan? If prabhu is one of the same, then why should one do ashtyam darshans/eight time darshan? The question is needed in the mind but if this question arises inthe mind then it should be understood that he is going only to see Prabhu but not for Prabhu' s darshan.
To do darshan means to express the feelings in the heart.The prabhu is all the time there, but when we do Mangla darshan at that time we adore Prabhu's Mangal Swaroop, we see Prabhu's Latpati atapati paag and alkawali,tangled hairs,half opened eyes. This can be seen only from the heart.
There are four types of Vaishnavism visitors.
Those who do ashtayam/8times darshan regularly
Those who do darshan compulsory once in a day
Those who do darshan on festivals or Utsav only'
Those who do darshan when they get time.
These four types of Vaishnays are doing darshan with different bhays. But to be honest, it is best to do all astasama darshan. to Many time Vaishnays often goes for darshan without taking a bath, without getting clean and in addition wearing half pants & shirts which is not really suitable. We must be careful about who we are going to see. When we go to meet our relatives,friends,teachers,or we go. to any celebration we wear the best clothes, we put on the best perfume.
If we wear the best clothes in worldly affairs, then why not we get organized when going to the temple, mansion or in our own house, where the best man, Lord of the world is sitting. In order to see the supreme god, one should go to darshan with good clothes, excellent perfume and joy and enthusiasm.
This shlok should be remembered while taking bath "श्रीकृष्ण वल्लभे देवी , यमुने पाप हारिणी
सेवा ये स्नात मिच्छामि जलेस्मिन सन्निधिम् कुरुं |"
In this we are remembering Shri krishn's very close Shri Yamuna ji who destroy all our sins. While bathing remembering Shri Yamuna ji we request that we have the desire to serve the Lord, we have the desire for the darshan of Shri Prabhu so please make your presence in our bath water, destroy our sins, remove our guilt and make this life worthy of his service to the Lord.
This is the only request at your and Srivallabh charan/feet. Thus one should be cleansed from the body and go for service or darshan. The sewa/service or darshan of the Shri prabhu should not be done in a hurry. Sewa/Service or darshan should be done peacefully and happily. In daily Sewa/Service we often have haste or other tasks so we decide the order and time of sewa/service in advance. That is why we often use the word that I am coming after completing the sewa/service but we should not to complete the sewa/service but to serve Srithakorji carefully.
Whenever you serve, you should serve with sufficient time. At times of mangala to shayan from waking up of Prabhu and carrrying him to gadi ji to and fro we should take extra care of Prabhu.After mangala Arti order of bathing and shringar comes.As part of the preparation snan chooki/bath stool is set,Vraja kumaris bring water in large vessel for bathing. "कनक पाट बैठे मनमोहन" Shri prabhu sits on gold chowki.
"कोइ हरि को तेल लगावे, परसत अंग परम् सुख् पावे"
Vrajbala feels enlightened by doing oiling to Shri prabhu which is not allowed to anyone we have received this happiness in the service of home from the Krupa of Shri Vallabh, then we must enjoy it.
When the bath of the Lord begins, how should the bath be done,what should be the temperature of water, all these things should be taken very care of. Take plain water on hot days. On cold days i.e. in winter take some warm water. While bathing, do not pour water from the pot at once but slowly pour water from the pot on the prabhu with a similar stream. then take the angvastra and very gently spread the soft cloth on Shriran of Shrithakorji.
There are four types of angvastra.
Shyam Swarup
Gaur Swarupana
Chitraji's
Vastraji/cloth
In the sewa of Shyam Swarup the bathing is done with fulel (jasmine oil), so the first wet angavastra is used for Shri Prabhu while in Gaur Swarupa Kora angavastra is used for Shri Prabhu. Chitraji uses only kora/dry angvastra and similarly kora angavastra is also used in vast vastraji sewa. Then the perfume
"कोइ तनिया अंग पहरावे कोइ सुथन सरस बनावे मोर चन्द्रिका गुञ्झ हार ब्रजजनके तुम प्राण आधार"
Share this Post: