HDH Shashthpithadishwar Pujya Pad Goswami 108
SHRI DWARKESHLALJI MAHARAJSHRI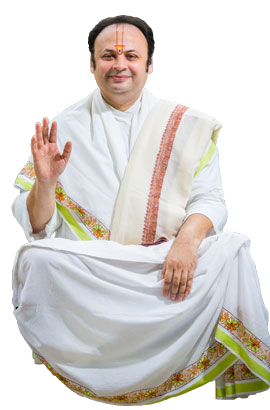 VAISHNAV RELIGION AND HISTORY OF DESCENDANTS & TRADITIONS:
Our First Supreme Omnipresent Jagad Guru Shrimad Vallabhacharya Mahaprabhuji who established the Vaishnav religious system to grace upon the Universe, the Divine Grace, also known as Pushtimarg. Jagad Guru Vallabhacaryaji had two Divine Sons – Shri Gopinathji & Shri Viththalnathji-Gosainji. Shri Viththalnathji-Gosainji had seven sons. His sixth son was Shri Yadunathji. Shashthapithadhishwar Param Pujya Goswami 108 Shree Dwarkeshlalji Maharajshri is the 14th Generation of Shri Yadunathji. For the past 13 generations based on the traditions of Shashthapithadhishwar, he resides on every Gaadi-Pati (Throne) as Raj-Tilak. He is presently residing in Vadodara as Raj-Tilak in Seva of Mohini Swarup Shri Kalyanrayji. This is the same Swarup that our Beloved Vallabhacharyaji served (Sevya).
Pujyapad Goswami 108 Shree Dwarkeshlalji Maharajshri is presently the Raj-Tilak Gaadi-Pati of Vadodara, Ahmedabad-Naroda (Shri Mahaprabhaji's Bethakji), Gondal, Baria, (Gujarat), Gokul (Uttar Pradesh), Dhanpur, Shergad (Rajasthan), Vidisha (Madhya Pradesh), Sikandarabad (Telangaana). Likewise in Atlanta-Gokuldham, Ocala-Pushtidham, Connecticut-Vallabhdham (All-USA) & Leceister-Shreeji Dham (UK). Moreover, he is serving various other religious establishments around the world as an Advisory.
He is a renowned PushtiMargiya Propagator, Philosopher and Teacher. He is an embodiment of Love, Compassion and Friendship. Along with these attributes, he is extremely Practical and Tolerant as well.
He is a guiding leader in Social Welfare and is associated with various Social organizations in the country & abroad. In his lectures, he motivates and inspires many individuals & Organizations and strives to find solutions to various problems faced by society. His inspired guidance is always for the people of the society for self-development and progress of the society.
Personal Details:
Date of Birth :

1/12/1967
Education :
Primary and Higher Secondary at Shreyas School and Bhavans School Vadodara.
He has achieved Scholarship as Acharyashri of Krushna Yajurved in Sanskrit medium from Kashi and Vrindavan. He has also studied law and grammar on various subjects.
He is mastered in various Languages - Sanskrit, English, Hindi, Gujarati, Vrajbhasha, Marwari and Urdu. He has also got knowledge of Computer from French Computer Education Centre of Mumbai.
He has learnt Vallabh Vedanth, Text-grammar in Hindi, Gujarati along with the knowledge of Acharya, Law and Advisors through highly acclaimed teachers -Shri Vijay Raghvandra Acharyaji and other learned personalities.
Languages Known:
Sanskrit, Hindi, Gujarati, Vraj, Marvadi, Urdu and English
Family Introduction:
He is the Second Son of Kankaroli Naresh Trutiya Gruhadhishwar Pujya Pad Goswami 108 Shri Vrajeshkumarji Maharajshree. He has one elder brother Shri Vagishkumarji Mahodayashri and two elder sisters.
He married Pujya Pad Goswami Akhand Saubhagyavati Shri Jayati Vahujishri and he has two sons - Elder one is Shri Aashraykumarji and Younger one is Shri Sharanamkumarji. One daughter is Shri Stutibetiji.
ARTS & HOBBIES:
He appreciates antiques collections and Art & Artistry. He is very proficient in playing Mrudang (Pakhawaj) in Music Area. He is articulate in preparing and adorning jewellery for Shree Thakorjee. He has written several ongoing poetries in Gujarati, Hindi & Vraj Bhasha. He is also Author of various Religious and Philosophical Articles and Texts. He has interest in ancient & modern, known-unknown Gazals' collections. He displays keen interest in national geographic and current affairs of past and present times...
UNFORGETTABLE MOMENTS:
On 1 April 1976 - Chaitra Sudh Athum, he was given Gyatri Dhiksha and Yagnopavit Sansakar in holy presence st On 1 April 1976 of His Father Trutiya Gruhadhishwar Pujya Pad Goswami 108 Shri Vrajeshkumar Maharajshri (Kankroli).
In 1982 on the auspicious day of Radhaashtami, he attained and earned the Title of Vallabh Vedantacharyashri from Kashi-Vrindavan.
In 1986, He assisted his Respected Father Trutiya Gruhadhishwar Pujya Pad Goswami 108 Shri Vrajeshkumar Maharajshri during his Vraj Yatra reaching out in Seva of Shri Mohanprabhuji.
On 16th April 1987 Chaitray Vad 3, he was anointed as the Sixth of the Seven Gadi pati's and soon crowned with title of Shashthapeethadihiswar. He was the youngest Gadi Pati at that time and till today in Pushti Marg, he has glorified his anointment as youngest Gadi Pati.
In 1990, he went on his First Global Pusthi Yatra of England, America, France, Italy, Portugal, Switzerland, Canada and other countries for initiating the work of Propagation of Pushti Marg where he motivated with encouragement all Vaishnavas. He travelled to many other countries like Africa, Singapore, Malaysia, Australia and New Zealand etc till date.
In 1992, he had his first Discourse in London on Shrimad Bhagwat Gita. During the same year, he was specially invited and requested by renowned Producer Late B.R. Chopra to assist and guide in the making of the T.V serial Mahabharat.
In 1992, he resided in Vraj and initiated Danwati Parikrama to Giriraji, Jatipura.
In 1993 - 4th December, he married to Pujya Pad Goswami Shri Jayati Vahujishri.
In 1994, he visited African Countries to inspire and motivate the Youth and Overseas Indians on Hindu Sanathan Dharma and Hindu Sanskruti.
In 1994, Narhari Shatabdi Mohatsav elected him as CEO for one year. During that tenor of CEO, his holiness organised many Mahotsavs ( Divine Celebratory Events) in Vadodara which included Shri Rameshbhai Oza's 108 Shri Mad Bhagwat Sapthah, Shri Krishna Shankar Shastriji Kathavrtha Shri Yogesh Shastriji - Shodas Grunth, (16 guiding spiritual scripts written by Shri Vallabhachrya Mahaprbhuji) and in those mahotsavs, many other scholarly speakers were invited by His Holiness to speak on Shodas Grunth.
SAD GURU'S ROLE IN ACCENTUATING HUMAN QUALITIES:
His Holiness has inspired and boosted hundreds of families striving their thirst towards Vaishnav Sampraday and its Seva Prakar. He has enriched them with Knowledge to their highest potentials. He has shared with them through discourses the valuable knowledge on various topics from ved and Vedantas and Pustimarg.
His holiness has initiated to provide Brahamsambandh Dhiksha to hundreds of Vaishnavas to grace them to the Lotus Feet of Jagat Guru Shrimadh Valbhachatyaji and lead them to the Vainkuth Darshan and experience of The omnipresent Thakorjee.
In 2000, UNO organised and invited His Holiness to The World Millennium Peace Summit of Spiritual Leaders - where he spoke on "The Threat to Peace in the Zones of Conflicts". His speech charmed and mesmerised 1200 respected learned invited guests in the Summit and received Honours as The Youngest Acharyashri and brought Pride and Glory to His Nation India and Pushti Sampraday at his very Young Age .
After the Summit, His Holiness was invited by Vishwa Hindu Parishad on a Tour of various places in USA to guide the Youth and infuse True Hindu Cultural and Religious Values into them and therefore, he travelled to New York, Charlotte, New Jersey, Orlando and Chicago.
Being a Chair Person of Shri Vallabh Vishwa Vihar Educational & Charitable Trust, His Holiness established one International Yuva Committe (Aantar Rashtriya Yuva Sanghatan) to mentor and inculcate True Cultural, Social, Moral and Religious Values and Responsibilities into the Youth of our Vaishnav Sampraday .
In June 2001, he was honoured with The Title of "Lok Ratna" by Honourable Shri P.B Sawant, President of All India Press of Uttar Pradesh in presence of Honourable Guests - Shri Pragyan Bhattacharyaji ( Prakash Times Of India), Shri P.K Vishnu ( CEO Mathura Refinery) Shri K.P.S Gill (Senior I.P.S and D.G.P of Punjab Police), Shrimati Shubhasini Ali ( All India Democratic Woman Association ).
In 2001, His Holiness founded The Organizational Building "Kalyan Praasad" in the heart of Vadodara City to host activities for Social Welfare, Educational Activities-Computer Education, Library, Medical Activities like Physiotherapy, Acupressure, Homoeopathy, Dental, Eye, Laboratory, Ayurvedic Services at very concessional rates to all the people irrespective of Cast and Religion.
In 2001 itself, Gujarat faced very heavy earthquake in which many people died and lots of families lost their residences. Under the leadership of His Holiness, 'Amrapur' village of Saurastra-Gujarat was adopted, then reconstructed fully with 180 New Homes, Primary School, Medical care Centre, Water Wells, Police Stations, People Court, Water Tank for entire village, Panchayat Bhavan, Nagargruh etc. That Village was renamed as Shri Vallabhachacharya Nagar.
In 2001, Celebration of 6th Vaishnav Yuva Adhivation, Vaishnav Yuva Chetana rally and Vallabh Mahotsav at Anand - Vidyanagar with Team of Pancham Pithadhishwar P.P.108 Goswami Shri Vallabhlalji Maharajshree.
In 2002, Main leading role in Vraj Yatra organised under the Nishra of Trutiya Gruhadhish P.P.Goswami 108 Shri Vrajeshkumarji Maharajshri.
In 2002, Lokarpan of New village Vallabhacharya nagar of Kachchha in place of Amarapur Village which was totally destroyed in Heavy Earthquake of 2001.
In 2002, Vaishnav Yuva Sangathan 7th Adhivation and Yuva Maha Chetana Rally at Waghodia Road by Indrapuri Yuva Sangathan.
In 2003, Celebration of Gujarat Gaurav Day in Baroda in presence of Shri Narendrabhai Mody, Ex-Chief Minister of Gujarat.
In 2003, Celebration of Yamunaji Nikunj Mahotsav at Rudraksh Ground of Waghodia Road by Vaishnav Yuva Sangathan Indrapuri.
In 2003, Megha Medical Camp for Blind and Handicapped people under social activity.
In 2003, Inauguration of PushtiMargiya Haveli at Hyderabad/Secundrabad.
In 2003, Celebration of "Prabhu Prassanna Parv" at various places by all branches of Vaishnav Yuva Sangathan.
In 2003, Vaishnav Yuva Sangathan 8th Adhivation and Yuva Chetana Rally by Halol Vaishnav Yuva Sangathan.
In 2004, Megha Surgical Camp at Vallabha Charyaji Hospital-2 of Waghodia Road, Shankuntal char rasta in collaboration with International Institute- World Surgical Foundation, USA.
In 2004, Vaishnav Yuva Sangathan's 9th Adhivation and Maha Yuva Chetana Rally by Vaishnav Yuva Sangathan Nizampura.
In 2004," Shrimad Bhagwat Saptah" at historical temple of Dwarkadhish at Zalara Patan Rajasthan in presence of Chief Minister Vasundhara of Rajasthan.
In 2004, Inauguration of "Old Homage and "Parana Gruh" for needy people in Kota Rajasthan.
In 2004, Due to Riots in Vadodara, a meeting of Priests of Religions looking to Violence of 2003 (Godhara).
In 2005, programme of "Jeevan Sathi Pasandagi Sammelan" organised by all Branches of Vaishnav Yuva Sangathan branches together.
In 2005, Megha Medical camp & Jaipur Foot Distribution to needy persons" was organised under the leadership of Maharajshree at Kalyan Praasad.
In 2005, divya programme of Giriraj Gungan Gatha organised by Vaishnav Yuva Sangathan Indrapuri at Rudraksh Ground, Waghodia Road, Vadodara.
In 2005, His holy presence in Art of Living programme on the occassion of Birth day celebration of Shri Shri Ravishankarji at Banglore.
In 2005, A programme of "Anandotsav" at New Zeland during his visit there.
In 2005, Stone Foundation Ceremony" of Shri Kalyan Pushti Haveli, Vastarpur Ahmedabad.
In 2005, Vastu Pujan and Inauguration ceremony of Shree Vallabh Vidya Mandir of Sarvottam Charitable Trust at Parivar Road in Eastern Part of City.
In 2005, Vaishnav Yuva Sangathan 10th Adhivation and Yuva Maha Chetana Rally by Vaishanav Yuva Sangathan Alkapuri.
In 2006, Thread Ceremony of Elder son Shri Aashraykumarji Mahodayshri has been arranged. At that time, under his leadership a programme of Shri Thakorji's various Manorath and Padharamani of Shri Madanmohan Prabhu & Shri Ladilesh Prabhu from Surat with Dhajaji have been arranged.
In 2006, Thread Ceremony of Elder son Shri Aashraykumarji Mahodayshri has been arranged. At that time, under his leadership a programme of Shri Thakorji's various Manorath and Padharamani of Shri Madanmohan Prabhu & Shri Ladilesh Prabhu from Surat with Dhajaji have been arranged.
In 2006, Celebration of Shatabdi Year of Aanter Rashtriya Pushtimargiya Vaishnav Parishad at London UK
In 2006, Invitation of "Chalo Gujarat" programme for celebration of Gujarat Gaurav Din at New Jersey USA.
In 2007, Bruhad Gujarati Samaj of Mumbai has awarded him with title as "Gujarat Gaurav".
In 2007, Vimochan of a Book on India's Shri Sardar Vallabhbhai Patel "An Iron Man" covering many aspects of his life.
In 2007, Vaishnav Yuva Sangathan 11th Adhivation, Yuva Chetana Rally and Shri Giriraj Mahotsav at Nadiad under his Leadership.
In 2007, Celebration of Anniversary of Bal Pushti Magazine and Vaishnav Parivar of Shri Harsaniji Public Charitable Trust at Mumbai.
In 2007, Inauguration of Pushti Prabha Aarogya Mandir-Medical Department at Kalyan Praasad with Physiotherapy Centre, Accupressure etc.
In 2008, Celebration of Birth Day of Shri Maharajshree at Nizampura - Shri Goverdhannathji Haveli with Chhapanbhog Manorath of Shri Thakorji.
In 2008, Grant Celebration of Vrajanand Mahotsav in different places of Vraj with Padharamani of Shri Kalyanray Prabhu in Vraj after 400 years. Thereafter, Celebration of Divya manoraths of Shri Kalyanray Prabhu at Kankaroli with Shri Dwarkadhish Prabhu.
In 2009, A programme of 84 Bethakji Mahotsav at Orlando, Florida USA.
In 2010, A great tour programme of Shri Krushna Rasamrut Mahotsav (a katha in Sea) in Celebrity Cruise for Alaska for the first time,
In 2010, A programme of 84 Bethakji Mahotsav at Atlanta, USA.
In 2011, various programme at different places organised for Celebration of 100 years of Shri Kalyanray Prabhu in Vadodara.
In 2011, Celebration of 45th Birth Day of Shri Maharajshri which includes Katha of Shri Satish Sharma and Rajat Tula of Shri Maharajshri at Najarbaug, Mandvi.
In 2012, Celebration of Vrajvihar Mahotsav with Padharamani of Shri Madan Mohan Prabhu at various places of Vraj.
In 2012, a programme of 84 Bethakji Mahotsav at Waghodia Rd, Vadodara, by Indrapuri Yuva Sangathan.
In 2013, Saurastra Bethakji Yatra - Tour for Zari - Charan Sparsh.
In 2014, Celebration of Ras Raj Mahotsav at Shri Kalyanraji Mandir and manorath of Shri Kalyanray Prabhu with Padharamani of Panchamnidhi Shri Gokul Chandramaji Prabhu.
In 2014, Celebration of 20th Year of Shri Dwarkadhish Prabhu in Parlin New Jersey USA.
In 2015, Shri Maharajshree has been given Award of "Glory of Gujarat" at the hands of Gujarat Rajyapal Shri Omprakash Kohliji by Indian Council of Social Welfare, Gujarat Branch ."
In 2015, a well organised tour of South India Bethakji Yatra under his leadership for more than 300 Vaishnavas from all over the world.