About VIPO Global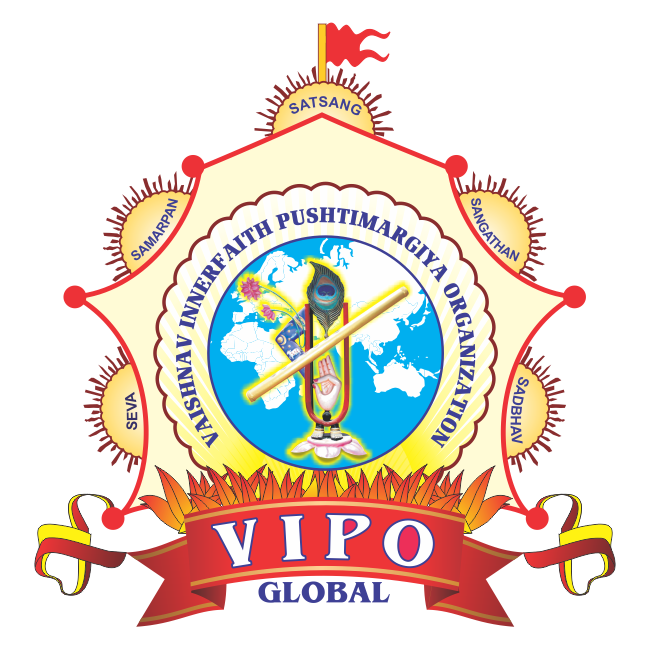 VIPO – GLOBAL is a worldwide organization inspired by HDH Shashthpithadishwar Pujya Pad Goswami 108 Shri Dwarkeshlalji Maharajshri – Vadodara which endeavors to unite Vaishnavs of all ages by empowering them to understand themselves and others through their unique role in the world. Its vision is to broaden the understanding of the Pushtimargiya way of life through social, cultural, religious, educational and humanitarian activities; and to promote and share cultural and religious exchanges amongst Hindus globally.
In 1995, it was established as "Vaishnav Yuva Sangathan," in India, to encourage the young generation to play a positive role through the practice of selfless service or seva. Later the organization moved to the international platform as VIPO – Global. Under VIPO – Global's guidance and direction, several affiliated havelis in India, UK, USA and Canada along with multiple satsang centers worldwide are actively involved in several activities including:


Educational Language and Religious courses for children and young adults
Regular satsangs and spiritual discussions
Cultural events
Musical and Theatrical Events
Self Improvement Lectures and Workshops
Community Services
Youth Camps
VIPO Global's vision is to cultivate Pushtimargiya Values through:
Seva: Loving selfless service to God and humanity.
Samarpan: Surrendering to God, with body, mind, spirit and wealth with complete dedication as well as for the benefit of humanity.
Sadhbhav: A view of goodwill, harmony, and compassion towards all arising from the understanding that both God and the individual self are the same.
Satsang: To come together to raise one's devotional and spiritual consciousness by chanting, singing, listening to religious scriptures.
Sangathan: An organization that unites individuals of all ages to understand one's self and one's unique role in the world.
Who Is A Vaishnav?
Anyone offering divine loving services to Lord Shree Krishna by dedicating and finding refuge in Him is called a Vaishnav. A Vaishnav does not harbor negative feelings of hatred, jealousy, envy etc and treats everyone with respect, equanimity and equality.
What Is Pushtimargiya?
Pushtimarg also known as The Path of Grace is a Vaishnav sect of Hinduism established by Jagadguru Shrimad Vallabacharya Mahaprabhuji, one of the great Acharyas of Hinduism. "Pushtimargiya" is spontaneous, selfless, motiveless love for Lord Shri Krishna expressed through service or seva..
What Is Inner faith?
Inner faith is the divine love one experiences after realizing Shri Krishna's true nature. It is the recognition of the all pervading nature or Brahmavad nature of God within ourselves and in the world that gives a positive outlook and attitude towards life and creates respect, understanding and awareness of oneself as well as others. Unyielding faith originating from one's experience of God's omnipotent presence can lead to extraordinary experiences which are practical and liberating. In this state of liberation, one merges into Shri Krishna's blissful form and no caste, creed, color, sex or age prevents one from attaining Shri Krishna's grace. It transcends all boundaries of identity, time, space and place.